Best P10 red Single Color LED Controller HD-U6B | LED display control system solution manufacturers | Huidu Supplier
HD-U6B is a single-dual color LED display U-disk control card, the loading capacity of U6B is 1024*48 pixels, and it has 3 HUB12 ports and 1 HUB08 port, that's mean, it can work for 3 lines HUB12 or 1 line HUB08 module high.
It is uniquely designed with a USB port only, more efficient and stable, the operation is friendly and easy for end-user, just updating and sending program content by U-disk, very convenient.
In addition, U6B can display text, time, animation text, and other contents. And it also can support richer display effects of background and bound frame and other functions to meet most application scenes.
Meanwhile, it can connect temperature sensor, brightness sensor, IR remote sensor, and also can support button function.
And it's widely used in single color signboard screens, such as LED banner signage, LED gas station price board, and other single color LED occasions
HELLO OCTOBER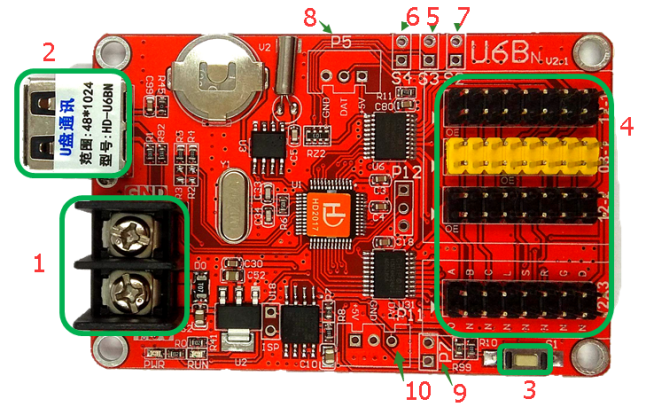 1:Power connector,connect 5V power supply;
2:USB ports,Updated program by U-disk;
3:Test button,click to switch screen test status;
4:3 HUB12,1 HUB08 connect the display;
5:S3, connect the point switch, switch the previous program,timer reset, countdown;
6:S4,connect the point switch,program control,time-out,count reset;
7:S2,connect the point switch,switch the next program,the timer starts, countplus;
8:P5,connect temperature/humidity sensor;
9:P7,connect the brightness sensor;
10:P11,connected to the infrared receiver,with the remote control.
Add a comment
Comment
IF YOU HAVE MORE QUESTIONS,WRITE TO US
Just tell us your requirements, we can do more than you can imagine.
Copyright © 2021 Shenzhen Huidu Technology Co.,Ltd. - All Rights Reserved.