Wholesale HD-40B Player Box for LCD Digital Signage | LED display control system solution manufacturers | Huidu Supplier
Wholesale HD-40B Player Box for LCD Digital Signage with good price - Shenzhen Huidu Technology Co.,Ltd.,Focusing on LED full color Asynchronous and Synchronous control system, video processor, single color control card, and LCD controller, completed control solutions for commercial display.
HD-M40B Box is an LCD controller from Huidu Technology, it is use Quad-core chip solution, the main frequency is up to 1.2GHz, support the decoding of video and pictures in various common formats.

Comes with a Wi-Fi module, no need to deploy server, support mobile phone sending program wirelessly.
With HDMI output port, support to display video, picture, text, clock, timing, weather, HTML, and stream.
Media etc. Standard 1GB DDR, 8GB memory. Support U-disk and TF card expand storage and insert broadcasting.
It with one RJ45 network interface, which can be connected to the local area network or the Internet, and update the program of the LCD display through Cloud information release system. 
It also with 3.5mm dual–channel audio output interface that can play sound directly. It is widely used in digital signage, commercial display advertising machine, interactive all-in-one machine, and other application scenarios.
The advanced technology in procession with universal quality norms makes this product of high quality.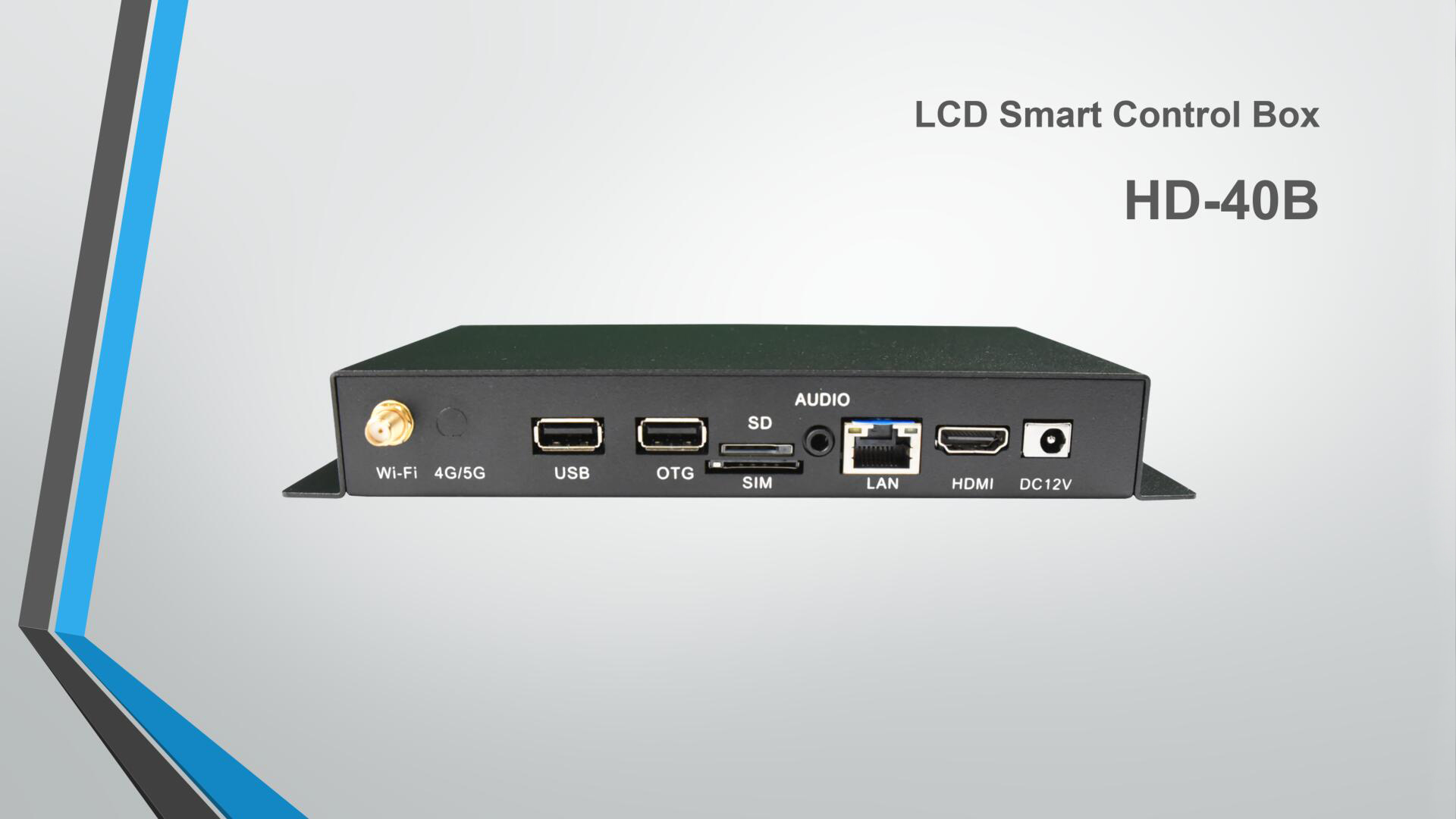 Minimalist design, reserved common interfaces, extreme size, can be used in ultra-thin application scenarios;
High stability. A40i Android all-in-one motherboard, add our own unique technology to ensure the product stability, can make the final product reach 7*24 hours unattended.
High integration. Integrates Ethernet, Wi-Fi, Power Amplifier, TF expansion card, USB expansion, IR remote control, HDMI, LVDS, backlight control, microphone and other functions greatly simplify the design of the whole machine.
High scalability. Six USB, five serial ports, five IO expansion ports can expand more peripheral devices.
High definition. Support various LVDS/HDMI interface LCD display screens, and support various size and resolution cropping screens.
Perfect support for multi-point infrared touch, multi-point capacitive touch, multi-point nano film touch, multi-point acoustic wave touch, multi-point optics
Touch and other mainstream touch screen functions


Add a comment
Comment
IF YOU HAVE MORE QUESTIONS,WRITE TO US
Just tell us your requirements, we can do more than you can imagine.
Copyright © 2021 Shenzhen Huidu Technology Co.,Ltd. - All Rights Reserved.